At Ditco, we are prepared to help you with any of your control system engineering needs. Ditco has a team of engineers ready to take on the unique challenges that companies may face when dealing with electronic controlled hydraulics. From start to finish, or at any step in-between, Ditco can offer solutions to keep your project running smoothly. Whether it's software or hardware, Ditco can provide the essential engineering your company needs. Our services include:
Concept Design
Schematic Creation
Circuit Board Layout
Prototyping
Enclosure Fabrication Design
Hardware Design and Selection
Software Development
Ditco provides custom designs in addition to standard products. Many of our standard products were created as general platforms which can easily be customized by either changing the hardware, the software, or both. Inputs and/or outputs can be added to incorporate different sensors and actuators, and the software customized to add the required automatic or semi-automatic features. By modifying one of our standard platforms we can implement a control solution in a fraction of the time over developing a new design from scratch.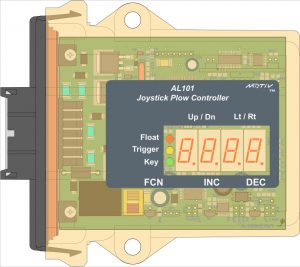 A good example, and one of our more popular platforms, is the AL100 design. It offers four universal inputs, can use 10 bit analog or sink/source digital inputs, four PWM current controlled sourcing outputs, from 0-3500mA, a 2-axis accelerometer, and a fuseless design. It offers a simple user interface with four digit display, and 3 button input to adjust operational parameters such as; valve trims, ramp times, PWM frequency, timers, slope control, and many others. The AL100 has a versatile communication interface: 5vdc TTL asynchronous, RS232, and CAN v2.0B. The AL100 has been customized to meet many different applications such as: multi-axis joystick control, auto-leveling, plow control, electronic gearbox ratio controls, etc.
When presenting your application requirements to our design team, we can offer several options including the use of existing design platforms. We take great pride in bringing new and unique designs into production to meet your specific control requirements. Bringing together what has already been designed, with new design features and capabilities, we strive to give you the best solution at the best price.